Fifa 21 is a fun and competitive soccer game. The game is out for PC, PS4, Xbox One, and Nintendo Switch. It has excellent graphics and improved gameplay. the online experience is very competitive and enjoyable. Problems with lag and bad connections can ruin your experience. A VPN would help you fix this problem. It can help you by reducing lag, improving ping, and unblocking firewalls at work or school. Elite players will also enjoy the added protection against DDoS attacks that a VPN provides. Please join us as we inform you about the best VPNs for Fifa 21.
| Rank | VPN Provider | Price | Sign Up |
| --- | --- | --- | --- |
| 1 | | $6.67 | |
| 2 | | $3.49 | |
| 3 | | $6.49 | |
Fifa 21 Game Info
Before I get into the best VPNs for Fifa 21 let me tell you about the game. Electronic Arts has improve on the gameplay of the game this year. They have changed the way the ball moves with new game physics. The game also has a new shot system that allows for more variety in shots like curving it up. There is a new defensive system and animations that make it feel more realistic. Fifa 21 has also brought back its most popular game modes like Fifa Ultimate Team (FUT), Career Mode, and Champion League. A new mode that has been put in the game is Volta Football. Fifa 21 is a game that I hope you and your friends enjoy playing together.
Game Server Locations
EA uses Amazon Web Services (AWS) to host Fifa 21. This is great as AWS servers are located very close to ExpressVPN's servers. Here is a list of the recommended VPN server locations for each region. We recommend connecting to a VPN server in Washington DC or Seattle to play in the United States. London, Frankfurt, Stockholm, Sao Paulo, Hong Kong, Singapore, Tokyo, or Sydney are also good options for international gamers.
Fifa 21 VPN Quickstart
Here is a quick guide to get you started playing Fifa 21 with a VPN.
Sign up for ExpressVPN (includes a 30-day money back guarantee)
Download the ExpressVPN app and connect to a server in the region you wish to play in.
Console users can set up the ExpressVPN MediaStreamer feature to change your DNS location. Otherwise you can run the VPN through your router.
Launch the game and enjoy!
Here are the best VPNs to use with Fifa 21.
---
1. ExpressVPN
ExpressVPN is our pick for best VPN. One of the most important factors to playing online is the balance between fast game-play and a safe experience. ExpressVPN helps you improve both. First off, they give you access to server locations in 94 countries and unlimited access to as much bandwidth as you need. They also protect your information by masking your IP address. They will make it look like you are in a different location. ExpressVPN encrypts your traffic through a secure tunnel. They also use kill switch which protects you if the your VPN connection was to drop. ExpressVPN keeps you safe online.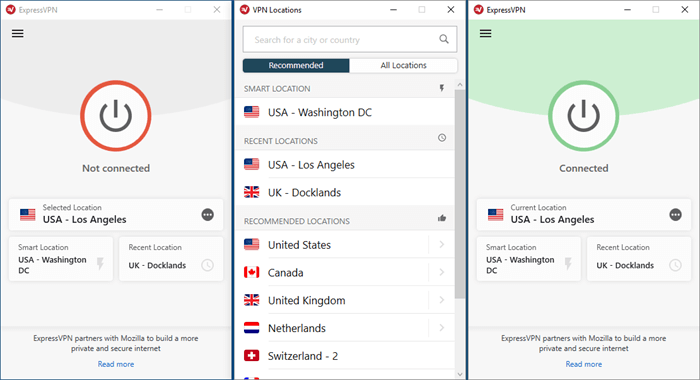 We're excited to share an exclusive discount on ExpressVPN for our readers. You can save up to 49% off a year of VPN and receive an extra 3 months of free VPN. Enjoy unlimited access to both their VPN network and MediaStreamer service. Save on your favorite games and reduce lag. Protect against DDoS attacks and unblock restrictions at school or work. ExpressVPN offers a 30 day money back guarantee so you will have a month to test their VPN and experience all the benefits of the service.
---
2. NordVPN
NordVPN is our second choice for gamers. They are an excellent service that will help improve your speed. You can do this by connecting to a server location close to where your game is being hosted. They have over 5000 servers around the world. NordVPN will help decrease the distance between you and the game server to improve ping and reduce lag. They mask your IP and replacing it with one of NordVPN's. This will ensure the server you are playing on will see you in the same region. NordVPN will protect you online and help improve the performance of gaming online.
NordVPN is a reliable VPN service that values privacy. You can feel safe knowing that your data will be encrypted while connecting to one of their over 5000 servers located globally. Take advantage of regional game discounts and use the service across multiple devices at once. NordVPN also has 24/7 support if you ever need more help. This includes lice chat support for quick answers. They will also give you a 30 day back guarantee. I hope you enjoy using NordVPN when gaming.
---
3. Private Internet Access
PIA is a good choice for gamers. They will mask your IP address and replace it with a new one. This will help you stay safe online. Private Internet Access also blocks trackers, ads, and malware. Your privacy is at the forefront of PIA's concerns. The company does not log and supports P2P. They will encrypt your data. This also protects against DDoS attacks and SWAT'ing. A good VPN allows you to get around firewalls. You will be able to play blocked games at school or work with a VPN. Private Internet Access is great for protecting yourself, while gaming online.
Private Internet Access is an affordable VPN that keeps you protected. You can improve your gaming experience by avoiding ISP throttling. PIA can also help you take advantage of regional price differences through connecting to one of their over 3000 servers across 48 countries. PIA has a 30 day money back guarantee. This will give you a chance to see all of the benefits a VPN can bring to your gaming experience. One of PIA's biggest goals is that you are safe online. Their VPN service will protect you from DDoS attacks.
---
Why are Games Blocked at School or Work?
Most gamers have experienced the frustration of network restrictions. Whether it's a firewall at school or work, you will find that popular game servers and social media sites are often blocked. A VPN will hide your traffic so that the network can not detect that you are playing a game or visiting your favorite sites like YouTube, Facebook, Reddit, etc. The VPN will encrypt your data which will stop it from being blocked by your network administrator.
Why is the Game Restricted by Region?
You will find that many games (and streaming sites like Netflix) have set restrictions based on the region of the world you are in. For example, Rainbow Six has servers in North America, South America, Europe, and Asia. Players are restricted to playing in their own region. What if you want to play with friends in another country? The solution is to use a VPN. Simply connect to a VPN server in the region you wish to play in. Preferably as close to the game server as possible for the best performance. You can also use a VPN to buy and play games that are not otherwise available in your region.
Not All VPNs Support Fast Online Gaming
It doesn't help to have a VPN that won't place you in the proper geographic region or isn't fast enough for gaming. There are literally hundreds of VPN services that won't cut it for online gaming. There are very few that support the speeds necessary to fix lag issues and provide the proper IP location. The key is using a leading VPN and making a connection close to the game server you wish to play on. The difference in routing can boost your speed. We recommend using ExpressVPN for the best performance.