Fifa 20 is a soccer game put out by EA. The newest in the series, this game is great. Career mode and FUT return with new content and updates. Career mode improved the moral system, while FUT added King of the Hill and Mystery ball along with 15 new players.
VOLTA Football is a new feature that is a street football match. In it, you can play with 3v3, 4v4, or 5v5. In it you will be able to fully customize your player and go through a story mode. Pro Clubs is a mode in the game that had you play against other squads online to raise from Division 10 to the first.
Playing the game is a lot of fun. However, problems like ping spikes, rubber-banding, and input lag in Fifa 20 can be frustrating. While some of this is caused by the game server, the rest is actually a result of your own connection to the game server.
In this post we will teach you how to fix lag with a VPN. We will provide suggestions for PC, PS4, Xbox One, and Nintendo Switch.
How to Fix Lag Spikes in Fifa 20
Here is the quickest way to improve Fifa 20 lag on PC with a VPN.
Sign up for ExpressVPN (includes a 30-day money back guarantee)
Download the ExpressVPN app and connect to a server in the region you wish to play in.
Test to see if your ping has lowered from your normal response time.
Launch Fifa 20 and enjoy!
Want to fix Fifa 20 lag on PS4, or is Fifa 20 lagging on Xbox One? If so follow these instructions.
Register for ExpressVPN (includes a 30-day money back guarantee)
Log into Expressvpn.com and go to the "DNS Settings" tab.
Click the button to register your IP address.
You can also set dynamic DNS (more technical users)
Click on the "Dashboard" tab
Look for the "Set up on all your devices" section and click on the "see all devices" link.
Click on the set up guide for your console. ExpressVPN MediaStreamer supports PS4, PS3, Xbox One, and Xbox 360. They also have a YouTube video to help Nintendo Switch users get set up.
Make note of the IP address given in the set up box to the right of the screen.
Set the DNS on your console to the IP given on the ExpressVPN site.
Why Does Fifa 20 Lag on PS4 and Xbox One?
The popularity of Fifa 20 is both a blessing and a curse. You will compete against other players with differing Internet connection speeds. If you have performance issues when using the Internet in general on PS4 or Xbox One then you can expect lag spikes when playing Fifa 20.
The two main considerations for lag are your Internet speed and hardware. Console players can use the ExpressVPN MediaStreamer service to help. PC gamers will want to focus on CPU, memory, and graphics card. Everyone needs a fast Internet connection.
More Tips to Fix Lag Spikes in Fifa 20
Start by checking the status of EA's servers on Playstation Network and Xbox Live. You might also check Downdetector to see if others are having trouble with connections for EA games. If everything looks good then you can move on to your own setup.
We recommend connecting your system via LAN cable whenever possible as WiFi is less reliable and connection speeds can vary on wireless networks. This can help with problems with speed up lag. However, another way to fix it would be to connect to a location close to the EA server you are playing on.
Otherwise, let's look at the best way to increase your Internet speed and lower ping times. In doing so you can expect less lag and a better gaming experience. We recommend testing a VPN to improve ping and reduce your lag. The key is to find a better route between your system and the game server.
Your ISP isn't focused on this issue as much as VPN providers. They know that it's a competitive advantage if they can offer you a faster router to key locations. Most of the game developers host regional game servers in the same locations. This allows VPNs to offer better routes and will give you a boost in performance.
Fifa 20 Server Locations
Electronic Arts has not released how they host FIFA 20, but they use Amazon Web Services (AWS) for most of their big titles. This is great as AWS servers are very close to ExpressVPN servers.
Here are some key VPN servers locations for ExpressVPN.
United States – Washington DC and Seattle
Europe – London, Frankfurt, Stockholm
Asia Pacific – Singapore, Tokyo, Sydney
South America – Sao Paulo
China – Hong Kong
System Requirements and Recommendations
This section is mainly for PC gamers. You will want to make sure you have the proper system specs for Fifa 20. The minimum requirements are often not enough to enjoy the game.
You will want to come as close as possible (or above) these recommended system specs.
Operating system – Windows 10 or later (64-bit)
CPU – AMD FX 8150, Intel i5-3550, or better.
Video Card – AMD Radeon R9 270X, NVIDIA GeForce GTX 670, or better
Memory – 8 GB
Here is a little more information on using a VPN for gaming.
---
How to Play Fifa 20 with ExpressVPN
ExpressVPN is our best choice for reducing lag. Lag is every gamers worst enemy. Nothing sucks more than terribly high ping and a laggy game. Luckily this does not have to happen. You can reduce your ping and improve your experience by using ExpressVPN. All you have to do is connect to a server location close to where the game is hosted. ExpressVPN is one of the best companies to pick because it has server locations across over 94 cities. Whether you want to play on foreign servers or game in the US, ExpressVPN has you covered. Elite gamers will also be happy to know that ExpressVPN will keep them protected from DDoS attacks by hiding their true IP. You will be able to game with less lag safely.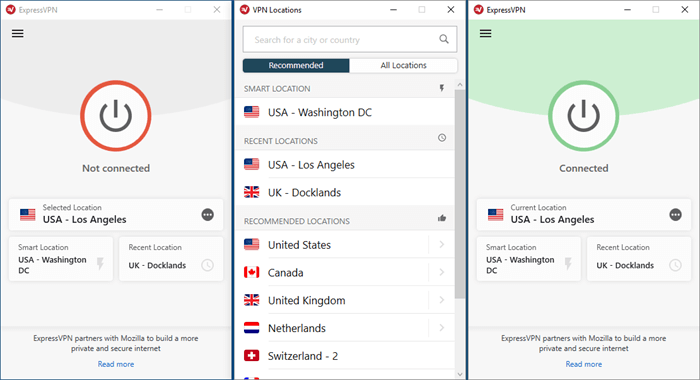 ExpressVPN is an excellent service to use when gaming. They help you gain discounts and early access to new titles. ExpressVPN provides extra protection against DDoS attacks and reduces lag. All our readers will be happy to learn that we have an exclusive discount for you to use. ExpressVPN will give you 49% off a year of VPN and receive another 3 months of VPN for free. This is coupled with their 30 day money back guarantee so you can test out the service for a month and see how it can improve your online experience.